2 DAY – O'KEEFE RAIL TRAIL TOUR
Spend a weekend cycling the O'Keefe Rail Trail from Bendigo to Heathcote. This tour is perfect for anyone looking to spend a weekend of easy cycling in the great outdoors. Central Victoria offers some stunning environments to cycle through and Heathcote is a well known wine region specialising in Shiraz. The itinerary for this tour is flexible. For the fitter groups, guests can choose to cycle the 49kms from Bendigo to Heathcote on the Saturday and spend the Sunday doing a wine tour of the cellar doors around Heathcote or for the more casual cyclists looking to maximise their time on the trail then its easy to split this ride over the 2 days.
TOUR INFORMATION
2 Days – 1 night – $260 per person (tent camping) or $320 per person (motel accommodation)
Departs Saturday's from metropolitan Melbourne at 7:30am
Tour Returns – Sunday approx. 7pm
Minimum Group Size – 4
Maximum Group Size – 6
Self-Guided – This tour is self-guided with guests being provided maps, suggested timelines for both days and support van is on call at all times. If the tour is booked a couple of months in advance there is the option of a guided tour as I love to get out on the trails with you but just need to organise a driver for the van.
Accommodation – Tent camping or motel accommodation
Bicycle – Bring your own or you can hire a bicycle for the weekend.
Food – Breakfast, wine tastings and lunches are included. Plus snacks and drinks are provided throughout the weekend. Guests can choose from a number of options for dinner on the Saturday evening and transport is included so you can relax and enjoy a wine or two.
Tour Runs – Year round
Difficulty – Easy/Medium – suitable for even occasional cyclists
Distance –
Day 1 – 21.5km's from Bendigo to Axedale
Day 2 – 27.5km's from Axedale to Heathcote
Enquiries – 0410 341 228 or email bookings@goodtimestours.com.au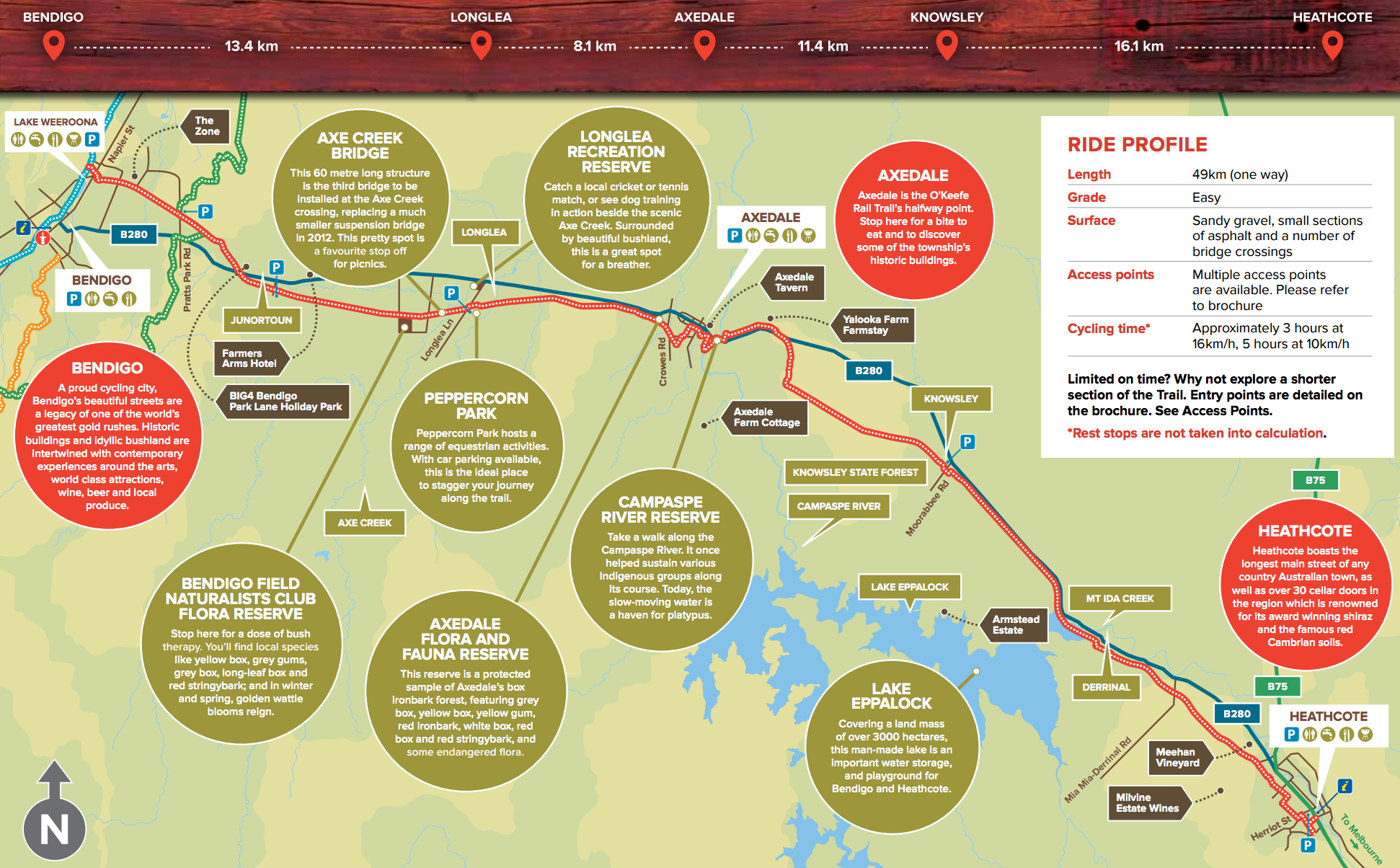 Get in touch
We'd love to hear from you, so please contact us on any of the platforms below.
bookings@goodtimestours.com.au
facebook.com/goodtimestoursvictoria
Jono Ingram – 0410 341 228 or @jonoingram

Other Cycling Tours