2 Day – Southern Circuit Guided Walk
This challenging 2 Day Guided Walk is one of the best overnight hikes in Victoria and is suitable for those with a high level of fitness. The walk can also be completed over 3 days which makes it achievable for beginners.
Tour Information
2 Day – 1 night – $220 per person
Departs Saturday's from metropolitan Melbourne
Tour Returns - Sunday approx. 7pm
Minimum Group Size - 5
*Please note that the guided walks I offer are for private groups of 5 or more. For individuals I offer the 2 day sightseeing tour which involves approx. 20km of walking over 2 days. The reason why I don't place individual or couples with other groups is that it's difficult to match people's fitness levels and often guests are looking to do different itineraries.
Maximum Group Size – 10
Accommodation – Tent camping
Food – All food is included & dietary requirements can be catered for
Tour Runs – Year round
Difficulty – Hard
Distance – 42kms
Enquiries – 0410 341 228 or email bookings@goodtimestours.com.au


Wilson's Prom is Victoria's most popular National Park and without doubt my favourite place in Victoria.
The 2 day/1 night hike makes the ideal overnight trip and requires a good level of fitness as it's a total of 42km in length and approx. 5 hours to 7 hours of hiking on both days. Please note that the 2 day/1 night easier option is simply a return walk to Sealer's Cove via Telegraph Saddle (This option is popular with first timers)
The itinerary is as follows
Day 1 – Saturday

– Depart Melbourne at 7:30am on Saturday and arriving at Tidal River campsite at Wilson's Promontory National Park at 10:30am.
– At approx. 11-11:30am we will depart Telegraph Saddle where we hike slowly uphill for the first 3km before descending 6.5km down to Sealer's Cove where we will stop for a short break and a chance to eat some lunch.
– At approx. 2pm we will depart Sealers Cove and hike 6.4km to Refuge Cove. This part of the walk hugs the coastline and offers some amazing views back towards Sealer's Cove and the more remote northern beaches of Wilson's Prom. Arriving at Refuge Cove we'll again rest on the beach and soak up the views before tackling the last 7km to Little Waterloo Bay.
– At approx. 3:30 we will depart Refuge Cove and tackle a long slow climb over 2.5km which rises to give awesome views of Refuge Cove and from here it's a relatively easy 4.5km to Little Waterloo Bay. In fact this 7km section of trail is probably the most scenic of the entire hike and in the late afternoon is just a magic experience as you wind your way through dense forest and then along remote beaches before finally arriving at camp.
– At approx. 6pm we will setup camp at Little Waterloo Bay and in the summer months we will have 2-3 hours of daylight to enjoy the beach, go swimming, play frisbee or simply relax in stunning surrounds. In the evening we will cook dinner and enjoy some camp stories and even some cards.
Day 2 – Sunday

– Is much easier than day 1 with a distance of 16.8km back to Tidal River over generally flatter and easier terrain. This means guests will have the opportunity for a morning swim at the absolutely pristine Waterloo Bay which is a short 15min walk from camp.
The Route
This hike begins at Telegraph Saddle and day 1 follows the number 1, 2 and 3 tracks to Little Waterloo Bay for camp. Day 2 follows track 3, 4 and 5 back to Tidal River via Oberon Bay and Little Oberon Bay. In total the hike is 42km with a 25/17km split between Day 1 & 2.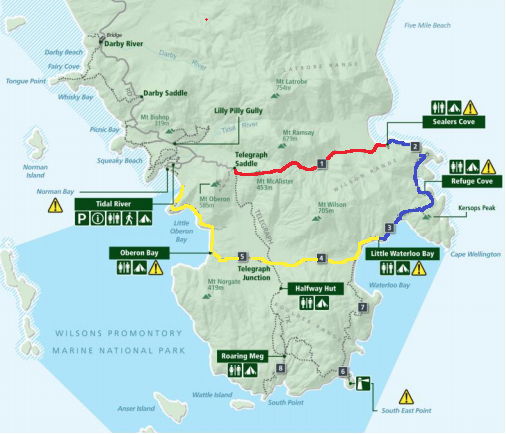 Equipment that's included!

– Hiking pack
– Sleeping bag with liner
– Inflatable sleeping mattress
– Inflatable pillow
– Headlight
– Walking poles
– Water bottles
– Water purification tablets
– Insect repellant
– Sunscreen
– Baby wipes
– Travel towel
– Cooking stove & cutlery, cups etc.
What to bring

– Hiking boots
– Rainwear & appropriate clothing
– Music & books
– Favourite snacks
– Toiletries
– Sunglasses
– Hat
WHAT YOU'LL EXPERIENCE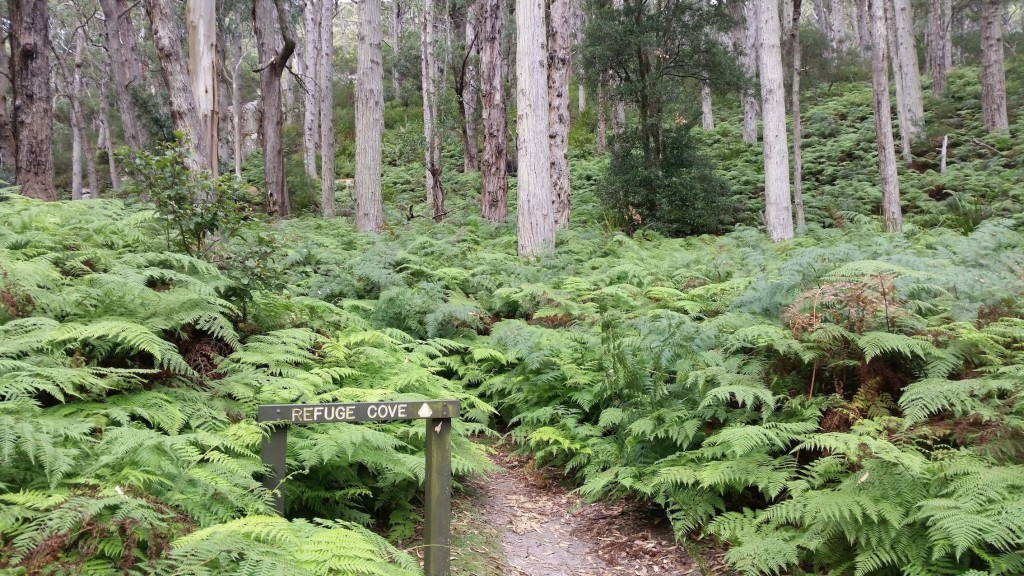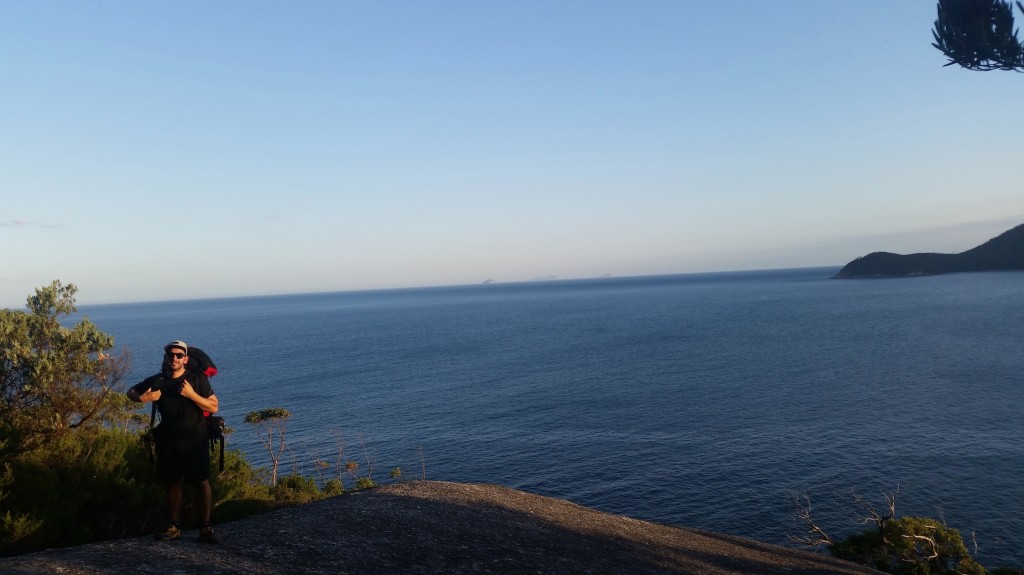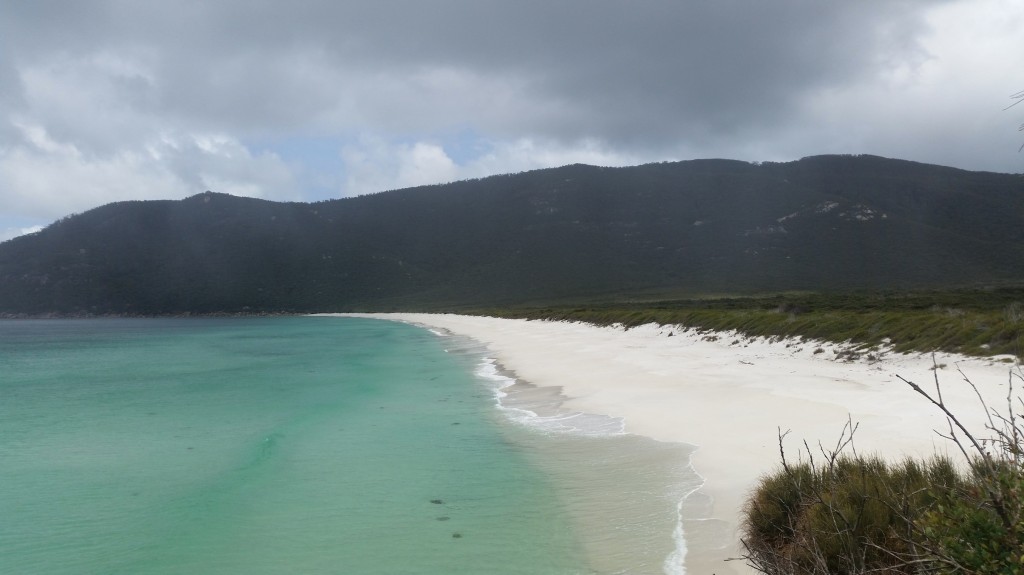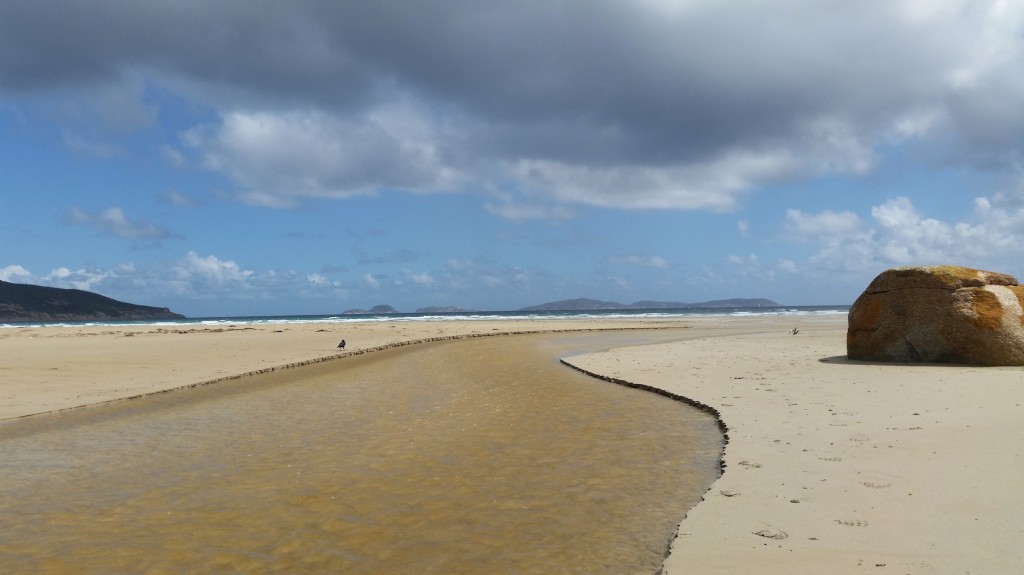 Your Guide 
Hello my name is Jono Ingram & I'm the owner/guide of Good Times Tours. I'm a passionate outdoorsman and love nothing more than showing guests this truly special National Park affectionately known as "The Prom"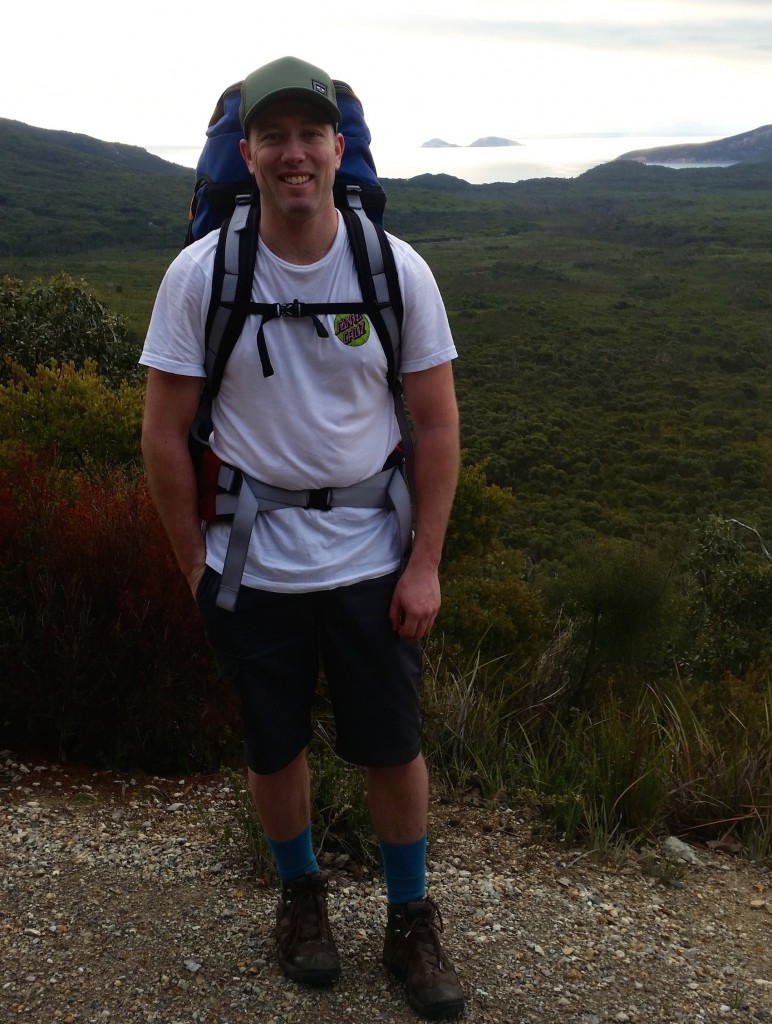 Wilsons Promontory Guided Walks
3 Day – Southern Circuit – Easy 
3 Day Lighthouse Circuit – Hard
Good Times Tours is an accredited tourism business