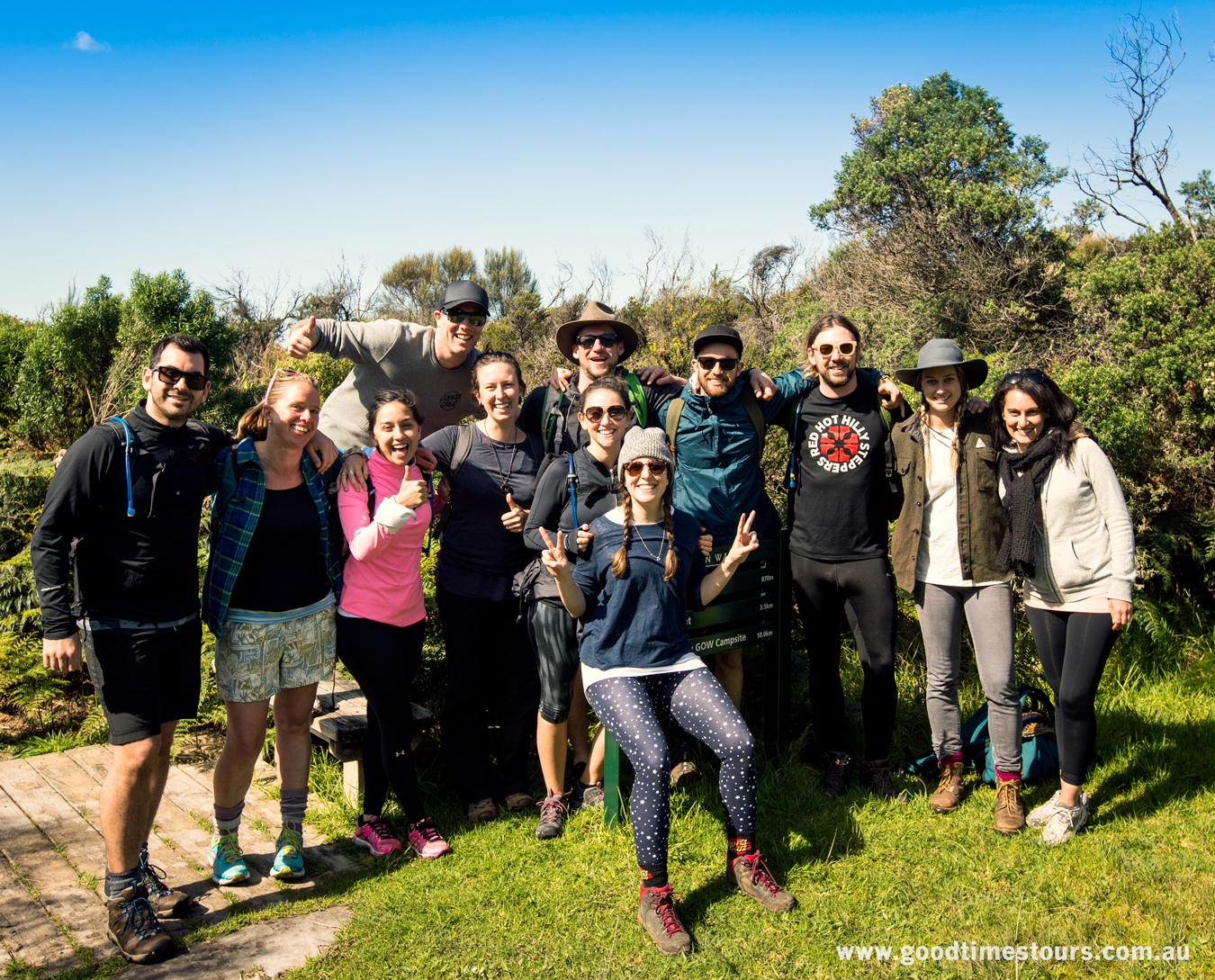 &

IEF Fundraising Weekend – Great Ocean Walk
Hi Guys Jono "Jingy" Ingram here. As you know our good mate Rob "Chooka" Henry has been doing some great work of late raising funds for his Indigenous Education Foundation and one of the projects that needs funded is the creation of a Mentawai dictionary. I'll let Rob go into more details about this project below, but I'm really keen to use Good Times Tours as a platform to help our mates raise money for important causes and what better way to do that, than to bring us together for a weekend Great Ocean Walk mission. The 35km walk over 2 days takes in the choicest cuts of the 100km Great Ocean Walk trail, plus camping at Aire River is guaranteed good times. Please get on board and support a great cause!
From Chooka
Firstly, thank you to Johnny 'Jingy' Ingram. Jingy proposed and initiated this idea of getting a group of friends together for a cause beyond just 'good times', matesmanship and an opportunity to indulge in one of the most beautiful landscapes there is. What a bloody legend. I really am shocked and deeply moved by this. Very lucky to be surrounded by such generous and caring mates, truly.
In response, wanting to give this event a more specific goal and for us to be a collective part of a potentially game-changing, historical movement (Mentawai is not yet a written language), I mentioned the Mentawai Dictionary we intend to develop and publish. Excitedly, I even put forward that we call this event 'WALK FOR WORDS' (which obviously didn't float Jingy's boat
!! ) Anyhoo, the plan was to conduct an expedition to Mentawai in early 2017, partnering with linguistic experts from the West Sumatran language department – who co-incidentally have been discussing doing this for years but have lacked the courage / guidance to put to action (interestingly, they talk about Mentawai as some wild, savage islander region, almost beyond their reach). Until this point, however, I really had no idea where the funding would come from to bring this crucial piece of literature to life. Then, out of nowhere, comes Johnny Jingy and me mates!! My bloody hat. All I can say, in the words of the great Jeffery Fenech, 'emmmm, I love youse all'. Seriously.
Ps. For more specific info about this Dictionary and our progress, read 'Cultural research, Education and a Mentawai Dictionary' <http://www.sukumentawai.org/en/2016/05/cultural-research-education-and-mentawai-dictionary/>. Also, do know that this funding (or any of the funding raised through IEF, for that matter) does not go toward personal flights, travel costs etc. This always comes from my own pocket. Bok bok. xx
Fundraising Target – $2000
100% of the $200 per person fee will be donated to the IEF, with Good Times Tours funding all other expenses for the weekend.
Tour Information
2 Day – 1 night – $240 per person (a little extra now to cover YHA in Apollo Bay on the Friday night)
Friday evening on the 16th at 6pm from the MitPit in Elwood with the aim of arriving in Apollo Bay YHA at 9pm. We can grab dinner at a pub on the way or head out once we arrive in Apollo Bay.
Tour Returns – Sunday evening approx. 6-7pm
Who is coming in the Jing Bus from Elwood
1. Jono  2. Wal   3. Aleisha    4. Jase    5. Andy     6. Agey    7. Mia    8.Leslie  9. Stephanie  10. Greggy
Chooka potentially bringing crew from Riddells Creek?
Accommodation – YHA dorm rooms on the Friday night and tent camping at Aire River campground on the Saturday night. Tents, thermarests, sleeping bags and sleeping bag liners will be provided along with camp chairs and full camp kitchen.
What you need to bring – A daypack for walking & an overnight bag with your clothes, plus a pillow.
Food – All food & drinks are provided including a fridge full of Good Times Lager
Enquiries – Please get in touch with Chooka or Jingy
The Hike Itinerary
Day 1 – Blanket Bay to Aire River – 21km's
– Departing Melbourne at 7:30am on Saturday we arrive at Blanket Bay at 11:30. It's now time to grab your day bag, do some hamstring stretches and get ready for Jingy or Chooka to lead you on the 10.5km walk to Cape Otway Lightstation.
– From Blanket Bay it's a relatively easy walk through dense gum forest that opens up to provide spectacular views of the ocean before descending to the serene Parker Inlet which makes the perfect place for lunch and chances are you'll have the entire inlet to yourself.
– Depending on the tide and how adventurous you are feeling, there is an opportunity to either walk the waters edge following rock shelves around Point Franklin or take the short steep climb out of the inlet. Once up on the cliff line it's a slow descent down to Crayfish Bay where there's a new section of trail that hugs the coastline to Cape Otway Lightstation.
– At Cape Otway Lightstation, I'll meet you before we enter the lighthouse grounds to explore the maritime and aboriginal history of the region. There's also a chance to grab a coffee at the cafe and relax before tackling the final 9.5km's to Aire River.
– The trail from Cape Otway takes you through dense scrub before opening up to awesome cliff top views of the Southern Ocean and eventually you'll find yourself in awe of the stunning Station Beach. Depending on how you are going for time you have the option of walking along the beach or taking the inland route which runs parallel to the beach.
– Not long after Station beach you'll find yourself seeing the raw natural beauty of Glenaire Beach from the Escarpment Lookout. From here it's a 1.5km descent down a sandy trail to the Aire River campsite. Upon arrival at Aire River, you'll be handed an extremely cold beer and will have a comfortable camp chair next to the fire.
Day 2 – Aire River to Johanna Beach – 14km's
– You'll depart Aire River campground at approx. 8:30am and walk slowly uphill, taking time to stop and enjoy the views over Aire River. The trail then follows the cliff tops with numerous vantage points to take in the spectacular views over the southern ocean.
– At 10:30am we'll arrive at our halfway point for the day which is Castle Cove. The trail runs parallel to the Great Ocean Road here and is a great place to take a short rest and have a quick bite to eat.
– From Castle Cove we depart on the final 7km's of the walk with the trail winding it's way along the coast which provides an amazing view looking back at Castle Cove & Aire River before heading inland through more dense forest.
– After a short while, the trail opens up to provide views of Johanna Beach your final destination. From here, the trail slowly descends down to the beach.
– The last 2km of the hike is along Johanna Beach with an arrival time of 1pm at the Johanna Beach car park. From here you'll be picked up and we'll depart back to Melbourne.
WELL WHAT A BLOODY FANTASTIC WEEKEND THAT WAS!