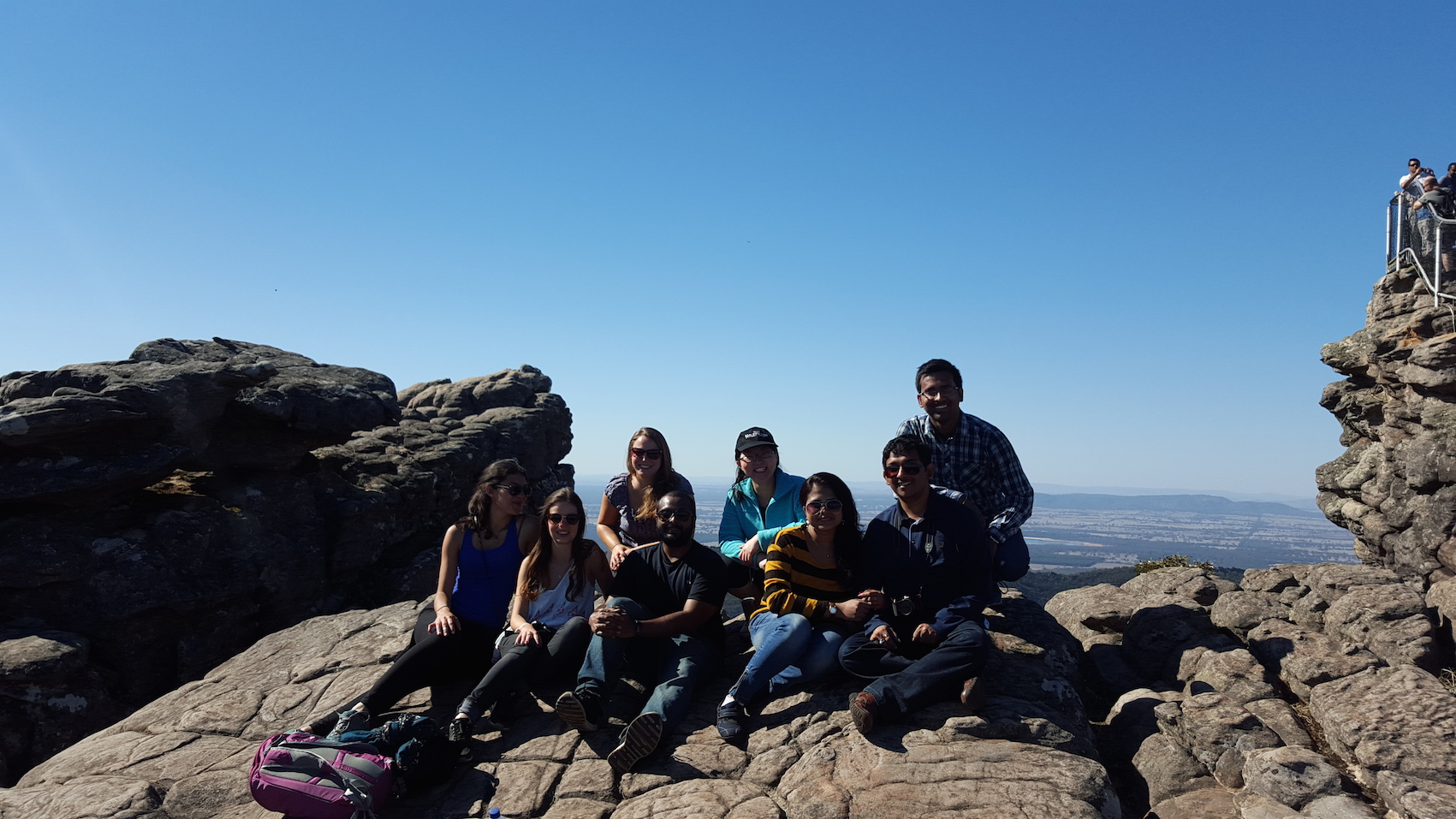 Grampians Peaks Trail – 2 Day Tour
The Grampians Peaks Trail is the latest multi-day hiking trail that's currently being built under the banner of "Walk Victoria's Icons". Once completed the trail will be 144km's long from Dunkeld in the south to Mt Zero in the north. Whilst construction will not be finished until mid 2019, the first stage of the trail has been opened and Good Times Tours is offering guests a chance to walk 21km over 2 days on this stunning trail. After this walk, you'll be raring to go when they open up further parts of the trail over the coming years.
Tour Departs 
Undercover Taxi Rank on St Kilda Road (between Hamer Hall & the Arts Centre) at 8:30am Saturday mornings. Please note it's approximately 200m from Flinders Street Station.
Tour Returns 
Melbourne @ 7 to 7:30pm Sunday evening (dropoff address is the same as pickup)
Minimum Group Size – 4
Maximum Group Size – 9
Accommodation –
Tent camping with all camping equipment provided at Halls Gap Caravan Park – $220 per person. Please note campground has full toilet and shower facilities.
Camping equipment provided includes tent, thermarest sleeping mat, goose down sleeping bag, inflatable pillow & camp chairs.
Food – Tour price includes a cooked BBQ dinner and breakfast. The tour van has a fridge on board if you would like to bring additional snacks. Halls Gap the main township of the Grampians is where we'll stop for lunch on both days and guests can choose from local cafes, bakery and general store. Vegetarians and vegans can be catered for.
What to bring –  Your day pack with water bottle, towel, hat, jacket, sunglasses, toiletries & a change of clothes for Sunday. Please also bring a good pair of runners or hiking shoes as this tour involves approx. 21km of walking over the 2 days.
Wildlife – The Grampians provides a great opportunity to see Kangaroos, Wallabies, Emus, Cockatoos and Kookaburras.
Tour Runs – Year round
Enquiries – 0410 341 228 or fill out the enquiry form below
Tour Itinerary –
Depending on the fitness of the group the 21km Grampians Peaks Trail walk can be completed over 1 or 2 days. If the walk is completed in 1 day, this means that guests can enjoy a sightseeing tour of the Grampians on the Sunday.
Day 1 – Borough Huts Campground to Rosea Carpark- 11km
Departing Melbourne at 7:30am on Saturday mornings, we drive for 3 hours to Halls Gap (1-2 stops along the way). Arriving at Borough Huts campground at approx. 11am we'll then prepare for our walk and you'll be given a daypack with water, snacks and lunch. From here we commence an 8.5km walk up to the summit of Mt Rosea. The walk gradually ascends up to the summit through fern gullies and striking sandstone rock features that make this walk one of the most unique in Victoria.
At the Summit of Mt Rosea we'll stop and enjoy lunch plus take in the views of Lake Bellfield and Halls Gap below. With the more difficult part of the walk over, we ease into the afternoon with an amazing ridgeline walk for 2.5km before arriving at Rosea carpark at approx. 3pm.  From here a shuttle service will pick us up and take us back to the van where you'll then be driven to the YHA Backpackers in Halls Gap. After a rest at the backpackers, I offer guests a sunset tour up at Reid's lookout or Mt William which both offer amazing photo opportunities.
Day 2 – Rosea Carpark to Halls Gap – 10km
For those keen photographers in the group or those who just love watching the sunrise, the views from Boroka Lookout are incredible and it really is one of the best spots in Victoria to watch it from. Whilst it does involve getting up early, it's only a short 15-20min drive from the backpackers.
After breakfast, we leave the backpackers at 8:30am and depart for Rosea Carpark. From here we walk through dense forest for approx. an hour heading towards the Wonderland Range where the views open up at the spectacular Lakeview lookout. From here we continue to walk along the ridgeline to the famous Pinnacles lookout. We spend some time here soaking up the views and enjoying a bite to eat before walking the last 3.5km to Halls Gap. On hot days there's an opportunity to walk an additional 1km to the natural rock pools called Venus Baths before arriving at Halls Gap at 12:30pm.
After lunch there's an opportunity to drive up to Mackenzie Falls, the largest in Victoria. It requires a short steep return walk of 1.8km's but it's very much worth it.  To celebrate the weekend we finish off our tour with a stop at the Seppelt Great Western Winery and Grampians Estate for free wine tastings.
About the Grampians Peaks Trail
The Grampians Peaks Trail is a really exciting project being developed by Parks Victoria under the "WALK VICTORIA'S ICONS" brand.
Expected completion is mid 2019 and the completed trail will be 144km in length and span the entire length of the Grampians National Park from Dunkeld in the south to Mt Zero in the north. It's currently being developed in stages and over the coming weeks we are expecting some exciting announcements about phase 2 of the trail development.
The below map highlights the proposed route and shows a solid red line that indicates existing trails and the dotted red line indicates the propose route for new trail that will be built. Several hike in campgrounds will also be developed specifically for hikers along the trail.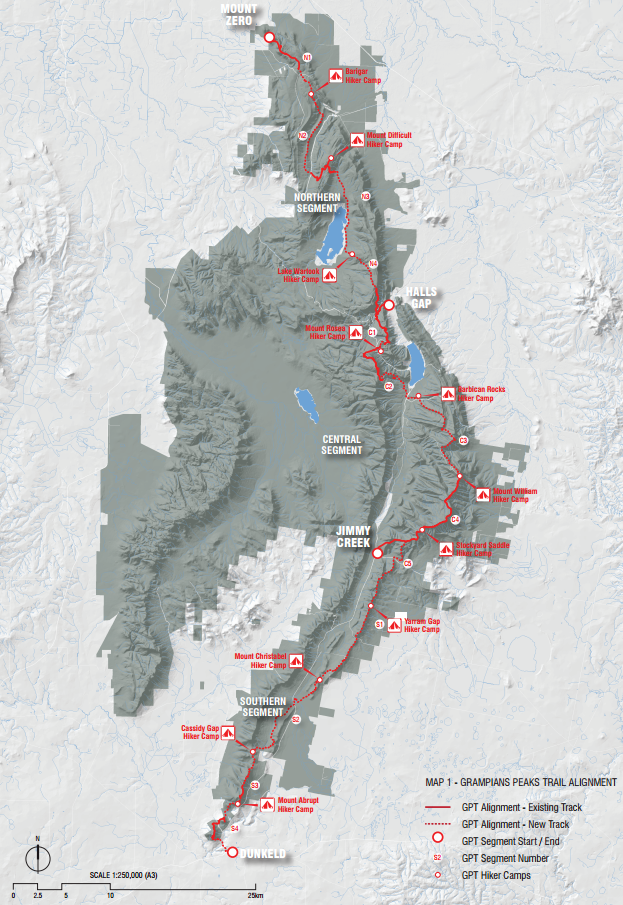 Grampians Peaks Trail Development Timeline as of June 2016
Taken from a public document produced for the Grampians Tourism Industry Conference – 1st June 2016
I've also included a couple of pictures which show examples of the two types of trail building that will occur on the Grampians Peaks Trail. Obviously with a trail that will be 144km long and for accessibility issues, machine cut trail is the best option.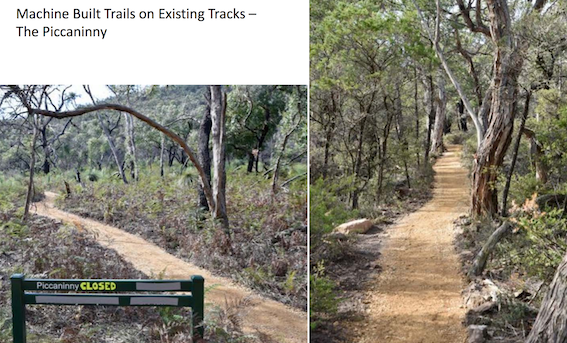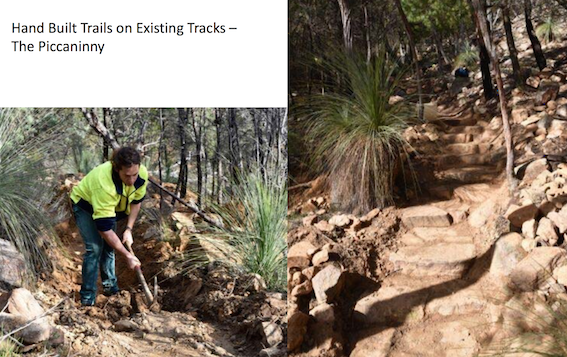 Your Guide
Hello my name is Jono Ingram & I'm the owner/guide of Good Times Tours. I'm a passionate outdoorsman and am looking forward to taking guests on one of the most unique trails in Victoria!